As online meeting becomes more commonplace than ever, the Academic Libraries North conference 2022 was no exception, and the organisers did an excellent job emulating the benefits of an in-person conference online.
This year's spotlight was on inclusivity, particularly on the actions our institutions take to improve equality and diversity. The event was split over 2 half days, giving delegates plenty of time to digest the wide range of content and consider how these ideas could be more widely shared.
ALN hosted a series of talks, presentations, post-break-out session chats, networking opportunities, sponsor booths and competitions using the virtual event platform, Hubilo. Conference delegates were able to discuss ideas and speak with sponsors in between sessions. Aiding connections and interactivity allowed the conference to flourish and receive widespread positive feedback.
Academic libraries and trans allyship
One of the event keynotes, Kit Heyam, began the conference this year with a session on academic libraries & trans allyship. They explored what is meant by the terms sex and gender by breaking down key concepts and encouraging all attendees to think about whether their institutions go far enough to protect our students e.g. manually updating databases to reflect appropriate pronouns or treating protected characteristics on library record notes sensitively.
Kit also advised that we can all signpost individuals who may use problematic language in no bad faith to more information and to think about and reconsider this. It was fascinating to listen to a passionate and knowledgeable speaker explain that while misconceptions are natural, they can be addressed critically and kindly when there is a willingness to learn.
Community engagement, period dignity and being a diversity ally
The conference hosted several lightning talks, which made me wonder whether our offerings align with other academic libraries. Lancaster University Library presented a piece on community engagement. As well as organising clothes mending sessions, a library festival and collaborating with the Lancaster Black History Group, Lancaster has also launched a community library card for members of the public aged over 16 and with which they can borrow 6 books at a time.
Teesside University Library discussed their period dignity campaign driven by a particular desire in the northeast for access to period products. It was an eye-opening presentation which pointed out the loss of education and deterioration of general health as a result of period poverty.
I was pleased to see our very own Sarah Pymer discuss the Archives & Records Association Diversity and Inclusion Allies. The group aims to focus on equality, diversion and inclusion through working practice, professional training and driving standards. Some positive steps have already been taken here, specifically around balancing gender within the archiving profession.
The care that binds: of stories yet untold
The second day of the conference was opened by the Associate Director for Research at the University of Nottingham and keynote Josh Sendall. This presentation was an inspirational and optimistic outlook for the future of equality within academic libraries. The key messages here were around promoting intellectual freedom to access all information and how neutrality and social justice can work together to achieve true equality. Josh touched not only on the importance of diversifying library collections by including marginalized voices but also promoting and celebrating this and demonstrating professional pride in doing so.
Conference sponsors
It is certainly worth praising the sessions given by the gold sponsor of the conference Kortext and both silver sponsors, Anybook and Adam Matthew. While familiar with the work of these platforms, companies and publishers respectively, it was useful to gain a deeper insight into the fantastic work they do to assist our collections.
Kortext hosted a talk on building a case for free eBooks at the University of Derby with a key focus on accessibility tools offered such as note sharing, highlighting and open conversations. Anybook discussed their practices, including how they give a proportion of the money made from selling books to the libraries and allow the libraries autonomy on how this money is spent whether this is on the collection or donated to charitable organisations. Adam Matthew were keen to highlight their work with various libraries to make lots of exciting materials available. One notable example of this was the diaries of Anne Lister, whose life as a landowner and historical lesbian figure has been portrayed in the BBC series Gentleman Jack.
Stand-out moments from the conference for me were the short papers on decolonising the library collection from the University of Essex and recruiting diverse candidates into the library customer assistant roles at the University of Manchester.
Decolonising the Library Student Champion Project
At the University of Essex, the library recognised a lack of diversity in its collection and enlisted the help of students. A series of workshops were held to encourage free discussion, and a brilliant video was made by students to explain the importance of decolonisation and diversification and the impact on the student body. During Q&As, I asked whether there had been challenges encouraging academics to diversify their reading lists, and I was happy to learn that most had welcomed these changes with a full understanding of the significance of this work.
Addressing barriers to inclusion in the recruitment process
Perhaps due to my own role as a customer experience team leader, I had a particular interest in how Manchester went about recruiting diverse candidates into their library customer service team. During a recruitment event, there was a big emphasis on encouraging those who lacked library experience but could offer other relevant skills to consider a customer service role. A video was shown at the event demonstrating what the day-to-day role looked like as well as a talk on demystifying the application process and an outline of the library 2030 vision. The University of Manchester Library saw an increase in disabled candidates, candidates under 20, candidates over 60 and LGBTQIA+ candidates.
Closing remarks
A wonderful panel discussion brought the conference to a close, and each participant was given the opportunity to share one thing we can all do to increase inclusivity. These included to keep talking about EDI, widening perspectives, sharing lived experiences, training to see through a diversity/anti-racist lens, being led by what others are going through and, of course, being kind.
Many thanks for having me this year, Academic Libraries North. I have taken so much away from this conference and I am completely inspired to keep listening and to keep learning.
*Extra thank you to OCLC for donating the prize I won for my entry to the photo competition in which delegates were asked to submit a photo of where they were accessing the conference from. Small thanks also to my toddler, Frankie, whose cuddly Moomin toy, I believe, swung it for me.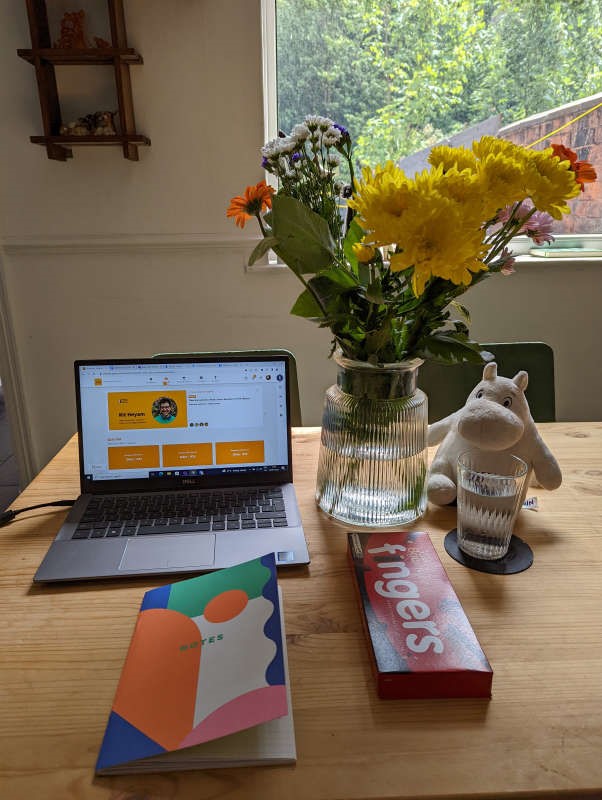 This post is authored by Ruby Hill, one of our University Library Customer Experience Team Leaders.