Disclaimer- This blog will discuss the topic of mental health. The writers of this post are not professionals, but former students who want to help current students know what is available to them at the University.
The 10th of October marks World Mental Health Day. The theme for this year is 'Make mental health and wellbeing for all a global priority'.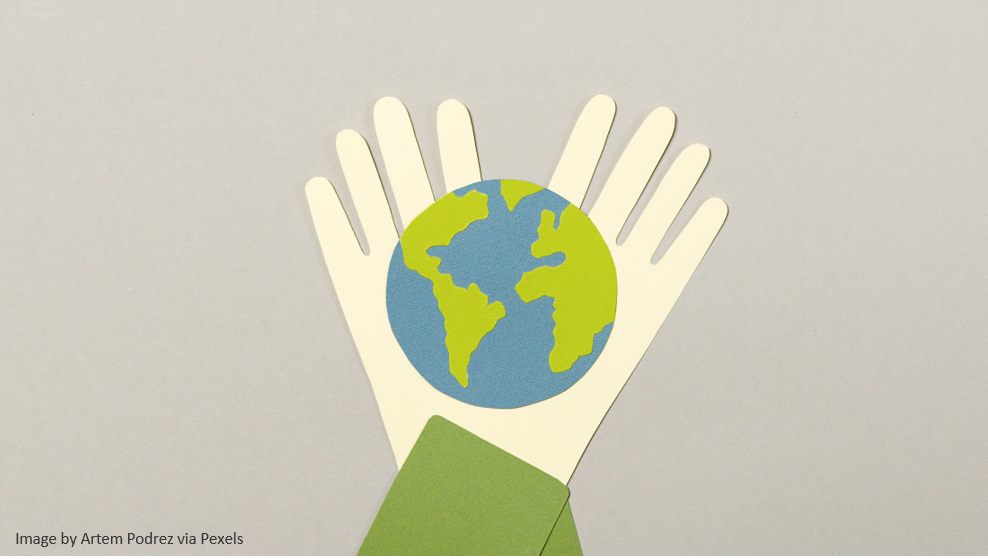 To highlight the importance of this day, Jess and Nat (two former students and now, interns at the University) have come together to write this blog. Here we will promote the resources that are available to students (and staff) across the University campus to promote good mental health. We want to show that mental health and wellbeing is a priority!
We have also included a list of resources including apps, books and podcasts that we have found useful for promoting our own wellbeing as students.
Jess
The Library is the hub of the University. Here you can find many resources and facilities to promote student wellbeing. When I studied at Hull University, I didn't know about all of the support available to students in the Library. So, my aim here to share these in hopes that you can make the most out of what is available to you.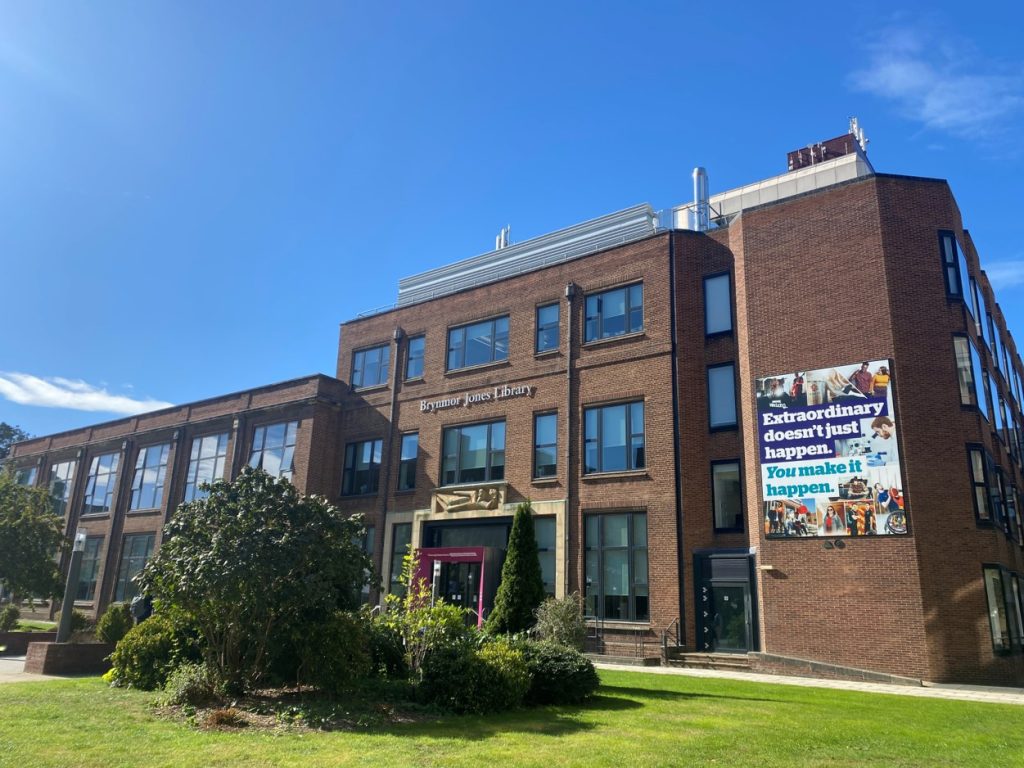 Reading Well Collection
The Reading Well collection is a good place to start. It is a small collection of material that are available to staff and students at the University. The topics covered in the collection include mental health and young people's mental health, as well as long-term health conditions.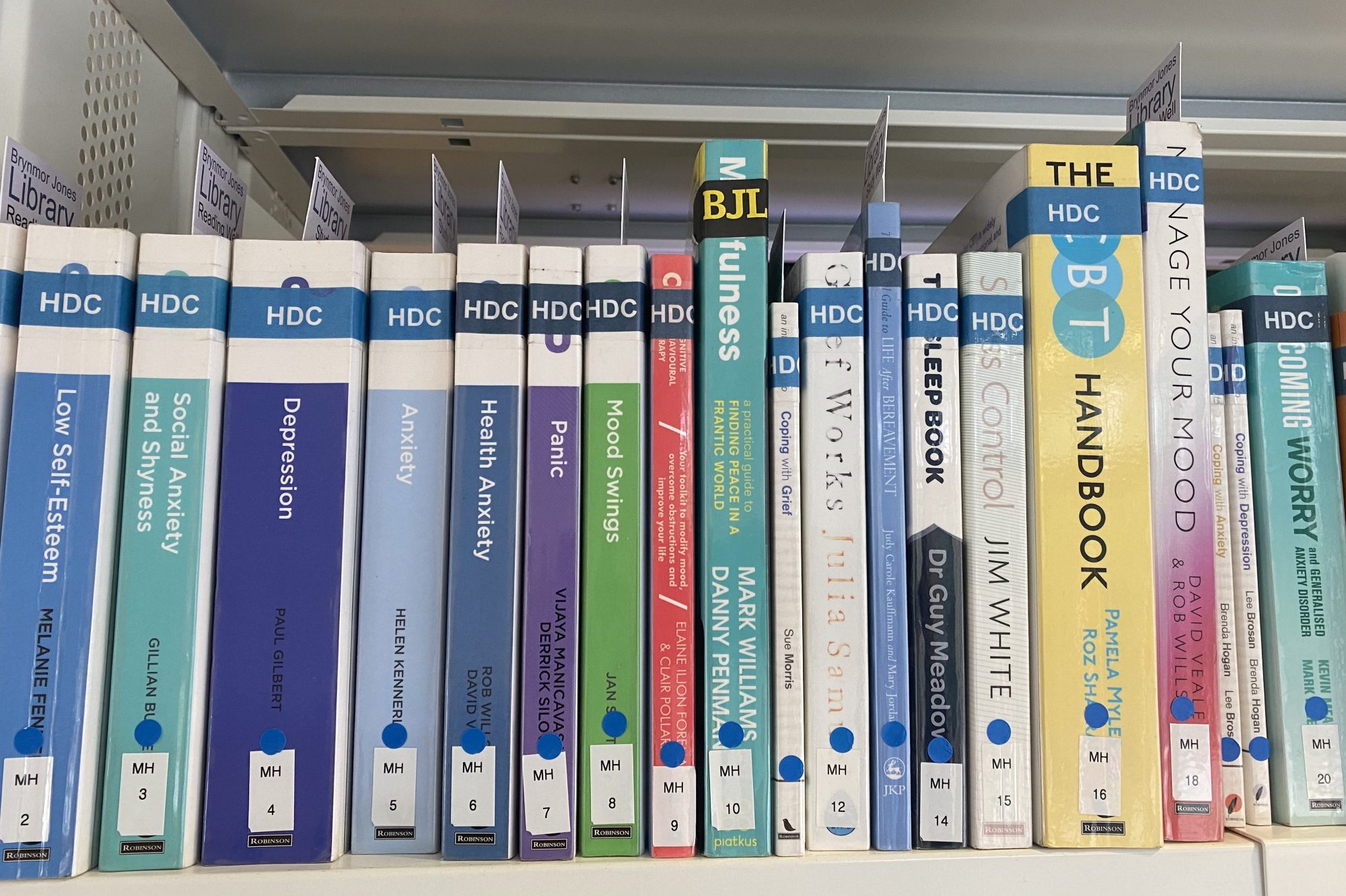 The books in the Reading Well collection are there to help you understand your own feelings, as well as to offer guidance on how to cope with them. They are a form of self-help, but can also be used alongside professional support.
You can find the Reading Well collection in the Reading Room on the 1st Floor of the Library. It is in a quiet corner where you can sit, read and reflect.
Switch-Off
Here at the Library, we think that taking a break from your studies and having a work life balance is really important for your mental wellbeing. That is why we have a list of ways in which you can switch-off from your academic endeavours and make time for yourself.
Taking a break from your studies
One of the best ways to take a break from your work in the Library is to visit the Café. Here you can give your eyes a break from staring at your screen and enjoy a nice coffee. You can also find a range of cold drinks, sandwiches and snacks which are perfect to fuel you for a day of studying. You're welcome to eat your own food in the Library Café and make yourself a cuppa in the Student Kitchen on the ground floor.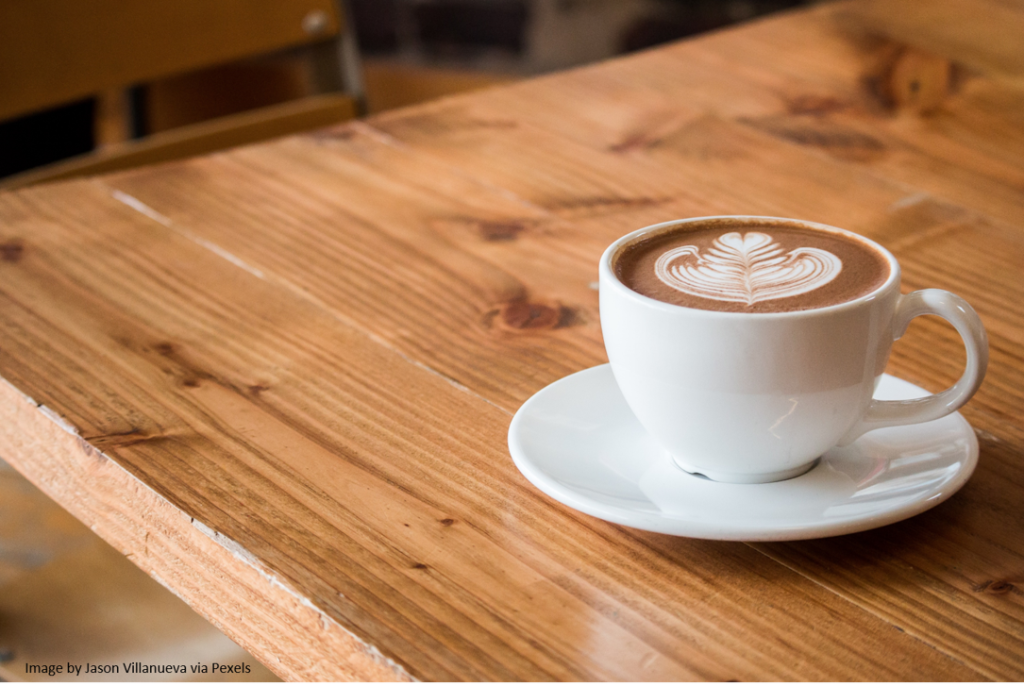 Similarly, the Library is trialling a Student Kitchen which can also be found on the ground floor. This is perfect for those who like to study late at night or over the weekend. Here you can warm up your food, make a cuppa and take a seat away from your desk.
Another way in which you can promote your wellbeing is by enjoying the Art Gallery and Exhibition Space on the ground floor. This is free and open to everyone. You can visit the gallery with your friends, family or by yourself. Once again, this is a great way to have a rest away from your workload and do something a little bit different.
Our collections
You can also find the Leisure Reading Collection in the Reading Room on the first floor. Here you can borrow a selection of books to enjoy in your spare time outside of your studies. Du Sautoy (2021) notes that reading for pleasure can help to prevent or reduce mental health issues, improve your ability to cope with external pressures or situations and improve your sleep to name a few benefits. So, don't forget to check out the Leisure Reading Collection and make time to do things that you enjoy.
Search the collection here.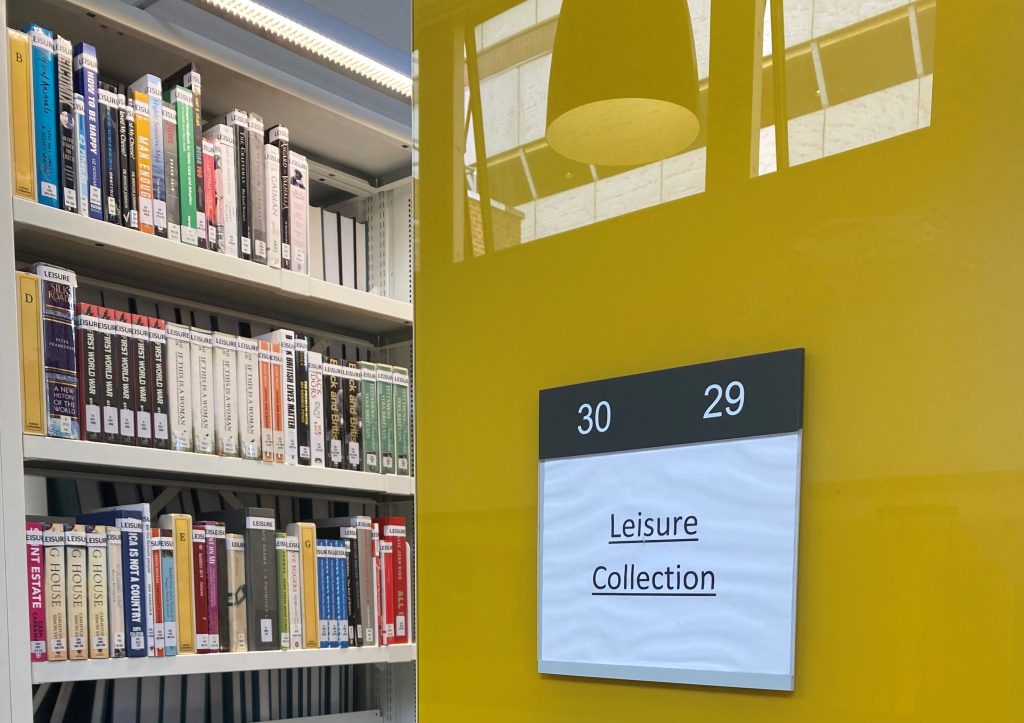 The Reading Room is also the home of the Spotlight On display. This is a reading list created by the Library Team each month. It is a small collection related to one theme. The current theme for October is Black History Month. Previous themes have included: Mental Health Awareness, Halloween and Books vs Film. The Spotlight On collection is great way to get inspiration for your leisure reading.
Find all Spotlight On Reading Lists here.
You can find other suggestions on how to switch-off here.
Skills Team
The Skills Team offer online and on-campus support for students and academic staff. We know from personal experience how looming assessment deadlines can quickly make us feel worried and stressed. I think that it is important recognise that you are not alone in these feelings and that there is support for you. The Skills Team can help provide academic support and in turn, reduce the stress that students may experience when it comes to their assignments.
SkillsGuides
The SkillsGuides are free online self-help guides that cover many areas of study.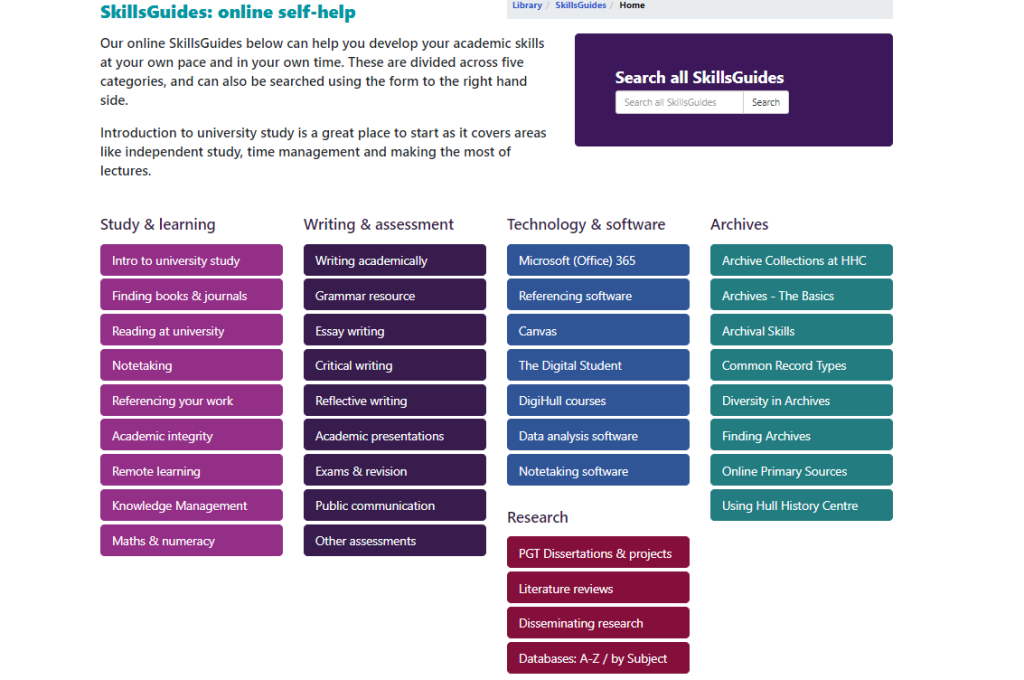 One of the most helpful SkillGuides is on time management. This is essential to help prevent or minimise the stress and worry you can feel around assessment deadlines.
One of the easiest ways to manage your time is to use a diary or a calendar. This way you know what you have to prioritise- your lectures, child-care, work. With this in place, you know what time you have left to make social plans and take time to relax and do what you enjoy.
It is also useful to look when your assessment deadlines are in advance. Do this for each module you are doing so that you can prioritise your tasks and make your workload more manageable. You don't want to have three deadlines within the space of a week and not realise this until last minute.
Tools like the Eisenhower Matrix can also help you manage your workload and avoid stress and burnout.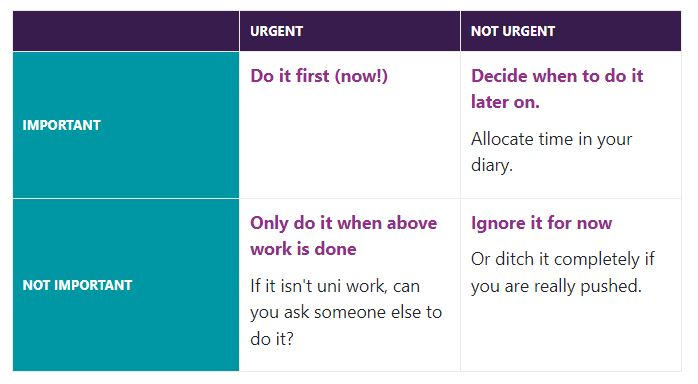 You can read more on managing your time here.
Other SkillGuides include help when it comes to referencing, essay structure, how to revise effectively and many more! Having these resources is great for when you're studying late at night or want to find an answer for a quick question you may have. Once again, this is can help to reduce the stress that can come with academic study as there is support available whenever you need it.
Search the SkillsGuides here.
Skills Team Appointments
For even more help with your studies, you can book online and on-campus appointments with a member of the Skills Team. This is good for your peace of mind as there is support available to you should you need it.
Book your appointment here.
Mental Health First Aid
Your mental health is just as important as your physical health. In the Library, you can ask to see a Mental Health First Aider who will support you in getting the care that you require.
You can talk to any Library staff member at the Welcome Desk or message us via the Library Live Chat on our website. We offer out of hours support on weeknights and weekends, so you can come see us and we can direct you to the right support services if you're not sure where to start.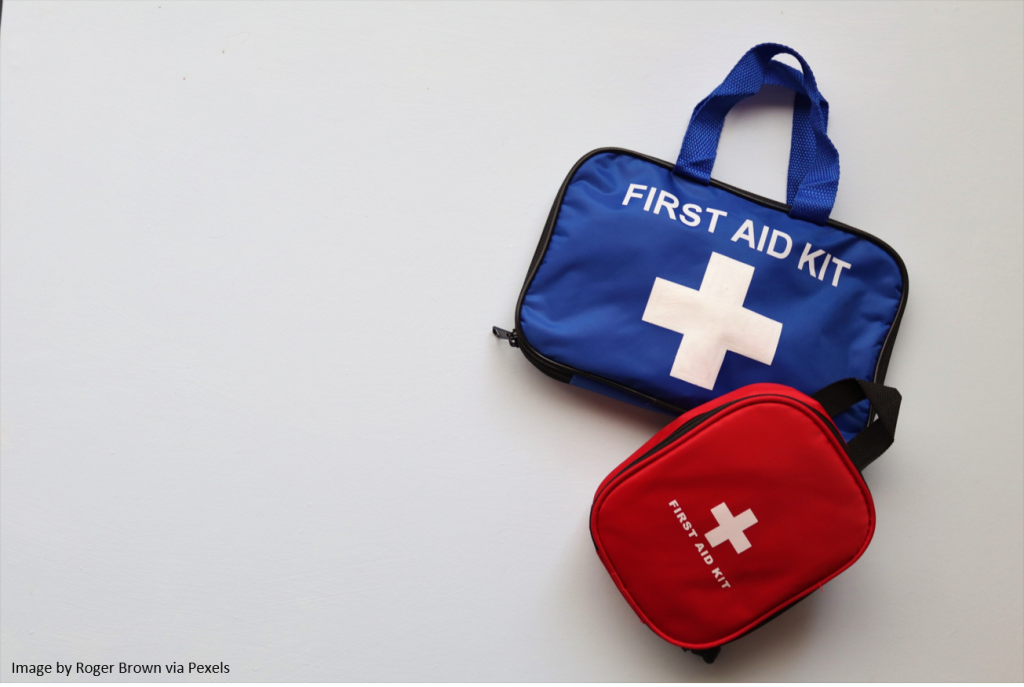 Nat
I work in the Mental Health and Well-being department, but it wasn't until I started working at the university that I realised how much I had neglected these services as a student.
Throughout my time at University, I struggled a lot with my mental health, only turning to support in that split-second moment when things were at rock bottom. I had a few sporadic appointments with the team but never saw anything through, often ignoring follow-up appointments.
Now that I'm working and seeing things from the other side, I really regret not utilising them more. The team are committed and there's so much support available. If I had taken my mental wellbeing seriously, then I think my uni experience could have been a lot different. As it's Mental Health Awareness day, I really want to stress that although mental illness is out of our control, there are things that we can control to help us manage.
Finding the right pathway for you
There are a few different pathways to support here at uni so I'm going to outline them all here so you can choose which route is best for you.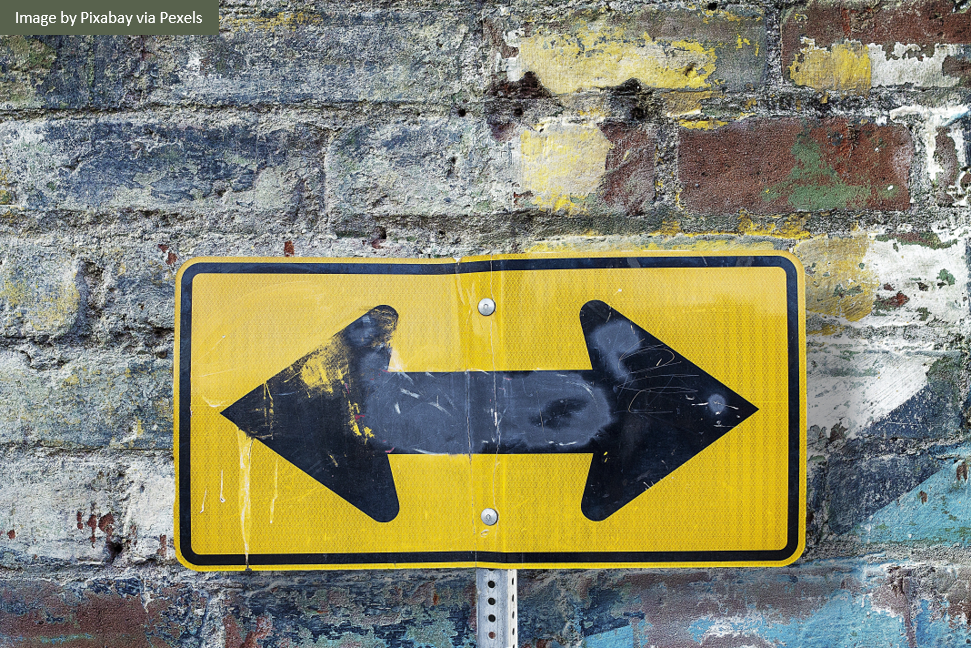 Firstly, there's a small team of trained mental health practitioners here on campus. Their aim is to help you to develop your confidence and independence in managing the challenges that you face during your student journey. They work with a variety students who experience all kinds of different mental health and wellbeing difficulties. Students or applicants can access the team by completing this self-referral form, this helps give an overview of your current situation. Once you've completed the form, the team will respond within 3 working days so keep an eye on your portal. But don't stop reading as there is more immediate support that we mention a little further down too.
Bringing up mental health with someone you suspect is struggling can be difficult, if you notice one of your friends or fellow students is suffering you can raise a concern for a student form here to let us know.
Student Assistance Programme
The university has recently partnered with the company Health Assured, to provide the students of Hull uni with the Student Assistance Programme (or SAP because we love an abbreviation.) Health Assured are the UK and Ireland's most trusted independent health and wellbeing provider, making a positive difference to over 15 million lives.
One service we found particularly helpful was their financial support. It's good to know that you're not alone with your financial worries!
SAP also cover a range of other topics that may be impacting your mental health. You can find out more on their website. Also remember that SAP is a 24 hour support service, so you can get in touch with them whenever you need to.
My Healthy Advantage
Health Assured has an app called 'My Healthy Advantage' which is free for every student at The University of Hull to download, when you've downloaded it via the app store you just type in the unique code: MHA148306.
The app has a 24/7, 365 helpline, with calls answered by experienced in-house counsellors, and legal and financial specialists.
I've been trying out the app for the last few weeks and I've really been enjoying it. It reminds me of the Headspace or the Deliciously Ella app that I've previously paid a lot for. My Healthy Advantage has all the same content; meditations, recipes, workouts and breathwork – the catch? This one is entirely free! It gives personalised wellbeing content, including videos, webinars, mini-health checks and health coaching. It's like having my own mini-guide in my pocket, reminding me to breathe, move my body and stop being so hard on myself. I struggle with sleep, so I signed up for their 4-week get better sleep course and I've already noticed such a difference.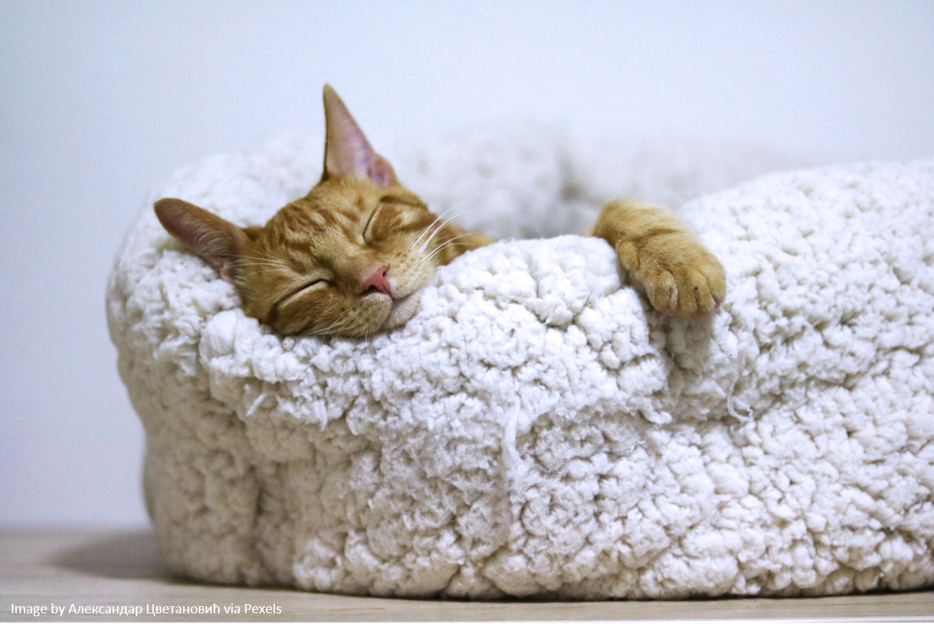 Even if you're not struggling now, I would recommend downloading it because the information is so accessible and helpful. If you have a spare few minutes in-between lectures, have a read-through and you never know if you'll stumble across a piece of information or advice that could really help you out at some point down the line.
The other day, I had to do a presentation to a big group and because I'd stayed consistent with my breathing and meditation exercises, I was able to calm myself down beforehand. I've linked one of their articles for looking after yourself here.
Moving your body to help your mind
When I was in the pits of my depression, the most annoying thing people said to me was 'have you tried exercising?', the answer was always 'no'. I didn't feel like doing anything, let alone going to the gym. But, although it pains me to admit it, exercise has been one of my biggest saviours.
I'm not saying you need to do a load of burpees – unless you enjoy them, which I firmly do not. For me it was walking. I started with a short walk and gradually increased it. Now I walk for hours a day, and I'll listen to a podcast to keep my brain stimulated from anxious thoughts. It can be any form of movement, if you hate walking that's fine, maybe you like swimming or throwing your limbs around to your favourite songs – the key thing is that you enjoy it. This is time carved out of the day just for you, that sends the message to your mind that you matter.
Active Wellbeing Programme
If you don't know where to start, you can contact any member of staff about the Active Wellbeing Programme over in the uni gym. The Active Wellbeing Programme is a five or ten-week sport and fitness programme for students at the University of Hull who need a little support to improve their mental wellbeing. Our team will provide one-on-one support throughout the programme, attending sports and fitness sessions and offering guidance throughout.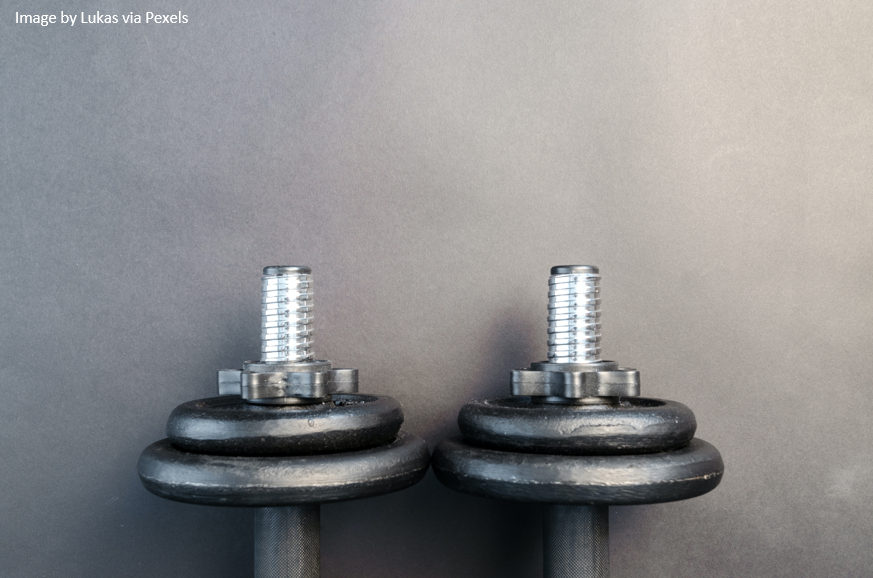 Here are just some of the benefits –
Integration into University life
Improved mental health and confidence
Meeting new people
Strength and conditioning coaching
Facility priority
Coaching and session delivery
The programme is designed to meet your individual needs and is based on your interests and availability. For more information or to enrol, email activewellbeing@hull.ac.uk or find their website here.
But, don't just take our word for it. As 100 per cent of previous participants would recommend the Active Wellbeing Programme to others!
Societies
Starting uni can be really daunting, especially when you don't know anyone. The Hull University Students Union is a great way to meet new people and make friends. They have plenty of societies for you to join and meet people with similar interests. This can help combat feelings of loneliness and isolation, so check out what societies are out there!
Sort out your socials
In an ever-increasing digital world, it's easy to get swept up in all the bad news. Or to look down your social media feeds and people posting the perfect, most presentable parts of themselves. That's why its important to sort out your socials and use it in the right way.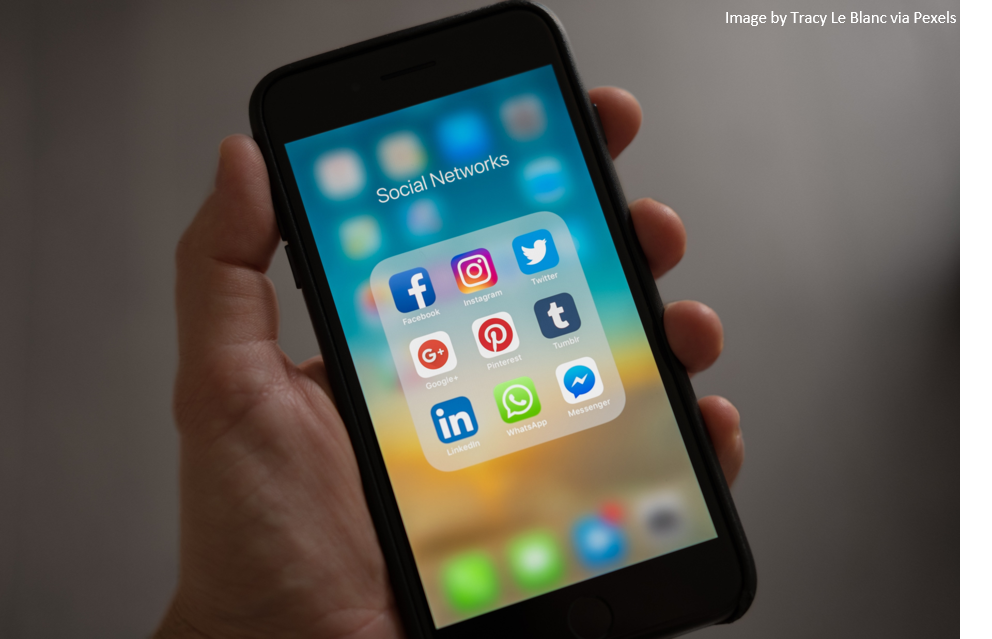 I would always complain about Instagram making me feel bad but the only thing making me feel bad was the accounts I followed. It's easy to spend hours scrolling and comparing your life to these unrealistic. But the chances are that you won't feel great afterwards. If you make your feed a space for things that spark joy and inspiration, like cat videos or relaxing cooking content then that's a step in the right direction.
This advice isn't necessarily related to the University, but I think that everyone can benefit from it.
Our recommendations
Here is a list of apps, books and podcasts that we have complied. These resources have helped our mental health and wellbeing during our studies and now!
Apps
It's good to fill your devices with apps that add to your mental wellbeing. Many apps offer guided meditation and other mindful resources, help you stay on top of your fitness and just give you enjoyment.
Our most-used apps:
My Healthy Advantage– Free for every student at The University of Hull to download, just type in the unique code: MHA148306. The app has a 24/7, 365 helplines, with calls answered by experienced in-house counsellors, and legal and financial specialists.
5 Minute Journal App– A way to make sure you have your journal with you wherever you go at whatever time. This app can help you have a more positive outlook on life by reflecting on each day.
Audible– A great place to find thousands of audiobooks and podcasts. After a free trial, it is currently £7.99 a month. It may be a good option for those who like to listen to their books when they're on the go.
Or for a free alternative, search the Library which will give you free access to audiobooks, music and films.
Find audio recordings (including audiobooks and music) here.
Find films, tv and radio here. We recommend Kanopy to all students!
Flow, Clue and other menstrual cycle tracking apps- These help you to keep on track of your menstrual cycle and stay in tune with your body.
Headspace: Mindful Meditation, Calm and other meditation apps – Guided meditation to help you sleep better and relieve some of your stress and worry. The Calm app is similar to Headspace. You can try a free trial for them both and see if they work for you.
Medisafe– A free app where you can input the medication you take and set reminders so you remember to take them. You can also share your schedule with those that you trust so that they can remind you to take your medication should you forget.
Books
As we mentioned earlier, reading can be great for your mental health and wellbeing. Whether you like to read self-help books to understand yourself a little better, or like to snuggle up and relax with a good piece of fiction, there's a book out there for everyone.
Don't forget to check out the Library's collections
Reading Well- located in the Reading Room on the 1st floor of the Brynmor Jones Library.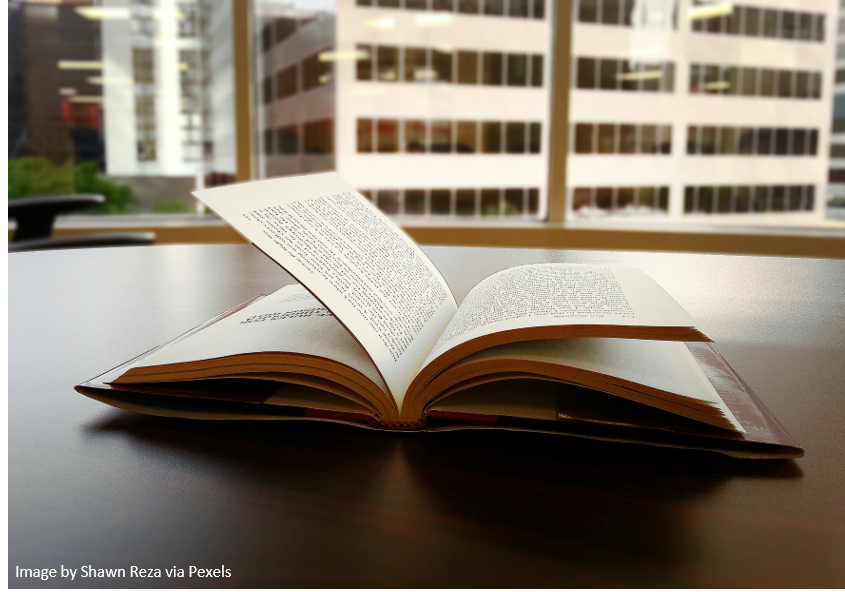 The books we reach for the most:
The Chimp Paradox by Steve Peters
A book to help you understand your mind, remove anxiety and build confidence.
Happy: Finding joy in every day and letting go of perfect by Fearne Cotton
Cotton confronts the pressures of everyday life including social media, work and study and helps us unlock our inner happiness one step at a time.
The Happiness Trap by Russ Harris
Dr Russ Harries suggests that we get caught in 'The Happiness Trap', which makes us unhappy in the long run . Mindfulness is Harris' way of escaping this trap. Here we learn how to reduce stresss, manage our feelings and remove doubt from our lives.
Headcase: LGBTQ Writers and Artists on Mental Health and Wellness by Stephanie Schroeder and Teresa Theophano
A collection of LGBTQ+ reflections on mental health and wellbeing.
Maybe I Don't Belong Here by David Harewood
In his memoir, Harewood discusses the impact of racism on Black mental health and revisits his experience of being sectioned under the Mental Health Act.
Mindfulness for Students by Stella Cottrell
A guide for students to help them study effectively and manage the stress that comes with studying.
Reasons to Stay Alive by Matt Haig
Haig is University of Hull alumni. In this memoir he recounts his experience with depression and how he overcame his illness.
Podcasts
We love to have a balance between funny and educational podcasts, there's only so much self-help information you can take before it becomes all-consuming and overwhelming. Sometimes the best thing for your mind is listening or watching something for the pure enjoyment of it. Science has proven that listening to, or watching comedy shows makes us happier people who take life less seriously.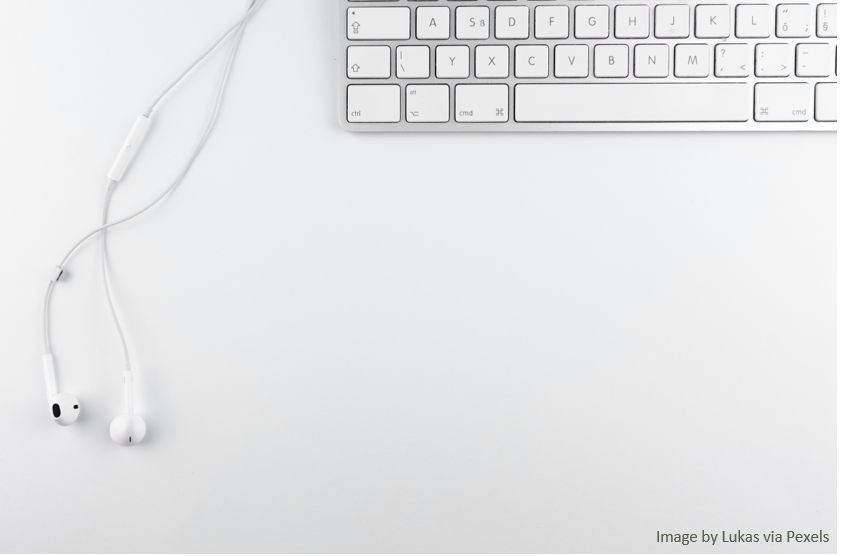 Our favourite feel-good podcasts:
Deliciously Ella – Ella breaks down the latest wellness trends and advice with special guests in the industry, separating the myths from the facts so you know what habits are worth starting.
How to fail – Elizabeth Day interviews a range of celebrities, writers, actors, and comedians about three times they've failed in life, it's really reassuring to know that even your fave celebs fail.
Happy Place – There's something about Fearne Cotton that is just so comforting, she interviews everyone from professional athletes, entrepreneurs, monks, motivational speakers, great thinkers and celebrities, and the conversations are heartfelt and candid. The Dave Grohl one is Nat's absolute favourite!
Off-Menu– Combining food and comedy, need we say more? Comedians James Acaster and Ed Gamble invite a celebrity guest to share their dream menu, listen with caution as you're sure to laugh out loud.
The Sleepy Bookshelf– This podcast series is perfect for those who need a little extra help getting a good night's sleep. Here you can listen to classic literature in a calm and soothing voice, which will help you relax and drift-off.
The Psychology of your 20s– Jemma Sbeg is an informal, chatty host who discusses different topics each week. These include: imposter syndrome, grief, social media and more. We found that this podcast makes us feel not so alone when it comes to big life changes and common feelings that can make us feel isolated.
Who to contact
Crisis Support
If you need urgent help to stay safe between 9 & 5 pm, let the team at Central Hub know. Out of hours, you can use SAP which will help you access NHS support. You can also contact the NHS using the emergency numbers 999 or 111. Here's a useful page on the NHS website about mental health.
Charities
Samaritans https://www.samaritans.org/ // 116 123
Student Minds https://www.studentminds.org.uk/ 0113 343 8440
Mind https://www.mind.org.uk/ // 0300 123 3393
Mental Health Foundation https://www.mentalhealth.org.uk/
ANDYSMANCLUB https://andysmanclub.co.uk/
The Mental Health and Wellbeing Team
Mental Health and Wellbeing Team https://www.hull.ac.uk/choose-hull/student-life/student-support/mental-health or contact them through MyHull Portal.
Academic Study Support
The Skills Team https://www.hull.ac.uk/choose-hull/study-at-hull/library/skills/services/book-an-appointment
---
Du Sautoy, T. (2021) The benefits of reading for pleasure. InnovAiT, 14(5). Available Online: https://journals-sagepub-com.hull.idm.oclc.org/doi/full/10.1177/1755738020986825?utm_source=summon&utm_medium=discovery-provider& [Accessed 10/10/2022].
---
Find Jess' other blogs here: