Each month staff from the Spotlight Team at the Brynmor Jones Library create a Reading List and book display in the Reading Room based on a particular theme to create a 'Spotlight On' Collection. In June, we are highlighting work relating to Decolonising and Diversifying Collections, and sharing some book recommendations provided by students and staff.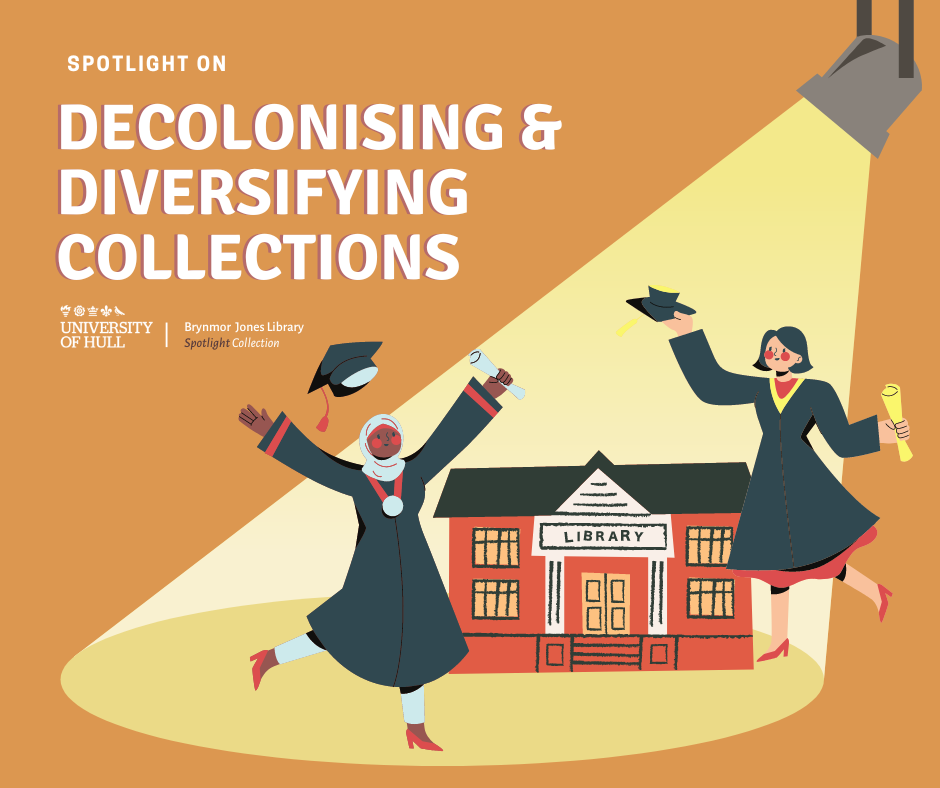 What is decolonisation and diversification?
Historically, academia has been dominated by white male voices. It is hard to believe that university study was once a male-only pursuit, with women very rarely admitted before the 19th century. Today, universities are incredibly diverse places with people from all walks of life and all over the world.
Yet this is not always reflected in library collections. The purpose of decolonising and diversifying libraries is to ensure that people who are marginalised by society's perspectives – for example, by race, ethnicity, physical ability, gender identity and expression, sexual orientation and socioeconomic class – are better represented in universities and academia, by diversifying the books in library collections.
But decolonisation and diversification are not about the number of books by and about, for example, black and LGBTQ+ writers on the shelves. It is one thing to add books by marginalised authors to our collection – true decolonisation and diversification are about engaging with those voices while casting a critical view on the existing works of white, male writers who have dominated academia and publishing for so long. It is not about the erasure of those voices, but about challenging longstanding biases and widening our intellectual vision to include diverse perspectives and experiences.
Creating the Spotlight Collection
The Spotlight Team put a lot of work into discovering and promoting diverse library resources. Researching and creating the collections often reminds us just how extensive our resources are. We are always excited to discover hidden gems, but it can be difficult deciding which resources to include in a Spotlight collection. With this theme, we felt it was important to seek input from our academic and student community to ensure our list, while only a snapshot of the immense resources available, included the voices of those we seek to represent.
We initially contacted Dr Nicholas Evans of the Wilberforce Institute (WISE), who showed great enthusiasm and put us in touch with historian Channon Oyeniran and two WISE PhD students with interests in decolonisation, Jen Nghishitende and Fred Bricknell. We also received some excellent recommendations from Dr Catherine Baker, senior lecturer in 20th Century History.
Book recommendations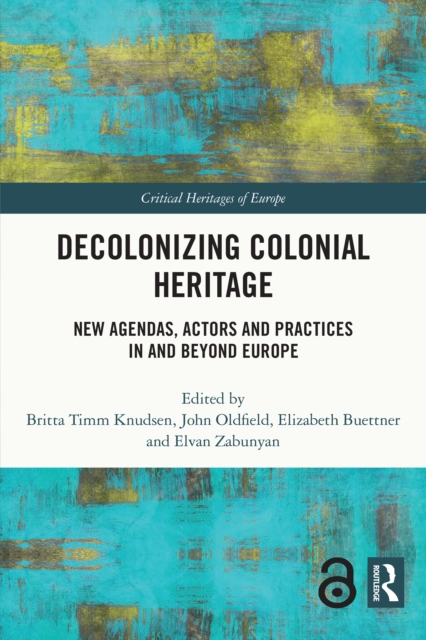 Dr Nicholas Evans' top recommendation for the collection was Decolonizing Colonial Heritage: New Agendas, Actors and Practices in and beyond Europe (2022).
"Decolonizing Colonial Heritage is a fantastic series of essays that deploys a truly global approach to studying the legacy of European colonisation in multiple societies. Such comparative analysis highlights the need look beyond national frameworks when discussing the legacy of imperialism. I especially loved the essay on Cape Town a port city influenced by Portuguese, Dutch and British imperialism."

Dr Nicholas Evans
Channon Oyeniran, historian, educator and author, is a former MA student of the Wilberforce Institute. Now based in Canada where she is Vice President of the Ontario Black History Society, Channon recommended How to Be an Antiracist (2019) by Ibram X. Kendi. She talked to us about why decolonising collections in libraries is important.
"Libraries are the gatekeepers of knowledge and should therefore have an abundance of knowledge in different subject areas by different people who have different experiences and who come from all walks of life. It is important for people to go into a library and feel represented, see themselves in the books that are on the shelves and learn about diverse subjects."

Channon Oyeniran
Jen Nghishitende, a current PhD student at WISE, enthusiastically recommended Dr Roselyne Masamha's thesis titled The education experiences of Zimbabwean nurses recruited to undertake pre-registration nurse education in the UK. Dr Roselyn Masamha is a University of Hull lecturer in learning disabilities nursing whose research interests include experiences of disadvantaged groups, inclusive education and decolonisation. Jen praised Dr Masamha's thesis for offering "a new perspective on shaping knowledge production, challenging the 'traditional' way of knowing in academia by producing academic work that accentuates the voices of her co-producers while embedding herself in the research by occupying the dual role of researcher and participant."
Fred Bricknell, also a PhD student at the Wilberforce Institute, has previously developed reading lists for the History module Global Britain. His recommendations were The Brutish Museums: the Benin Bronzes, Colonial Violence and Cultural Restitution (2020) by Dan Hicks and Museums and Atlantic Slavery (2021) by Ana Lucia Araujo. Fred described The Brutish Museums as "the one book anybody seeking to understand calls for cultural restitution in modern Britain must read". Talking about Museums and Atlantic Slavery, Fred told us the book "explores how the histories foregrounded in our national museums often omit uncomfortable truths" while emphasizing that "the fact they are uncomfortable does not make them any less true".
Dr Catherine Baker took time out of her very busy assessment period to suggest three resources. On Empireland: How Imperialism has Shaped Modern Britain (2021) by Sathnam Sanghera, Catherine said, "struggles over historical memory and national identity in former Yugoslavia are among my main research interests – this book offers food for thought about those same questions in the country where I live and work".
Also recommended by Catherine is a new addition to the Library: The Transgender Issue: An Argument for Justice (2021) by Shon Faye. Catherine described The Transgender Issue as "an accessible and empathetic account which connects up the inequalities facing trans people today into an explanation of what makes transphobia so systemic, and integrates them through focusing on the context of 'justice'."
Thirdly, Catherine highlighted LGBT Activism and Europeanisation in the Post-Yugoslav Space: On the Rainbow Way to Europe as "a thought-provoking collection that illustrates the complex ways that LGBTQ+ activism in former Yugoslavia relates to cities, nations, governments, and the idea of 'Europe' itself, by a team of authors with deep ties to LGBTQ+ scholarship and activism in the post-Yugoslav space".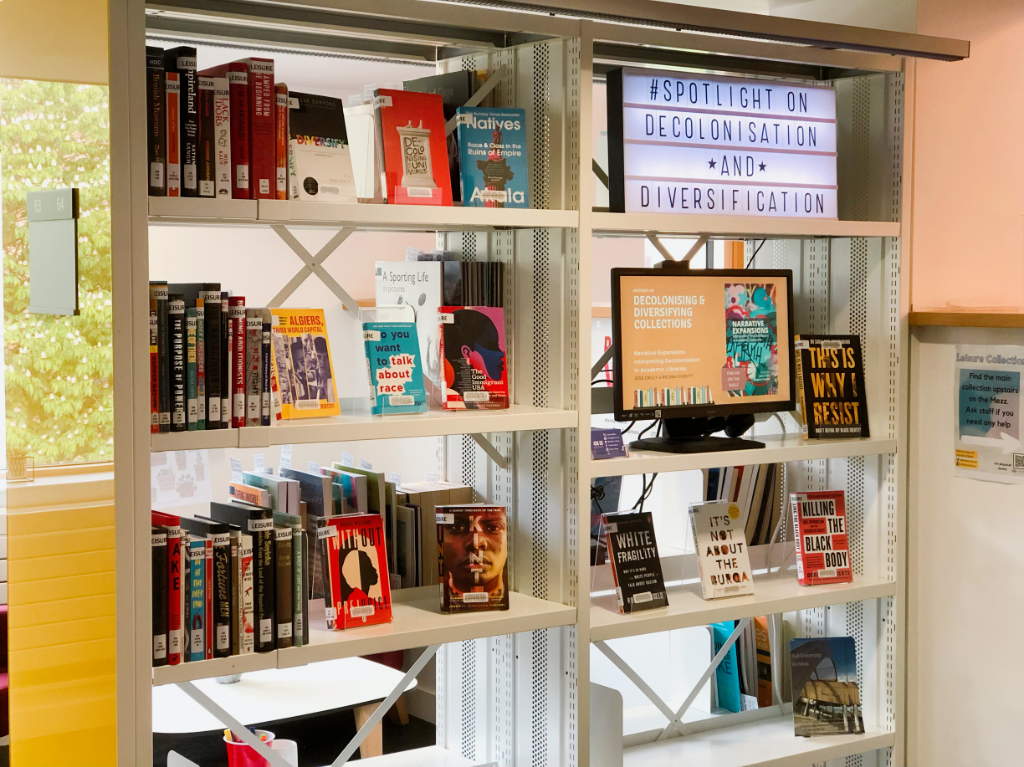 These are just a few of the resources included in the Spotlight Collection, and all are available via the Library or Open Access. The full collection can be found in the Reading Room in the Showcase Corner.
How can I get involved?
You can find out more about the Library's work on decolonising and diversifying the collections on the Library website.
We are keen to receive recommendations from students and staff for these collections. If you are a current student, you can do this by completing a Suggest a Purchase form and ticking the checkbox for diversifying and decolonising the Library.
Be sure to follow us on Facebook and Twitter so you don't miss our Spotlight On: Decolonising and Diversifying Collections posts throughout the month of June.
Special thanks to Jen Nghishitende, Channon Oyeniran, and Fred Bricknell, and to Dr Catherine Baker and Dr Nicholas Evans of the wonderful History@Hull department.
---
Read more about decolonisation in our Twitter thread, Maggie is our Collection Development Manager responsible for Library and Archive collections at the University of Hull. Sarah is one of the University Archivists at the Hull History Centre, and also an @RL_UK Professional Practice Fellow 2022.