#TechItUpTuesday
What is an online potfolio?
Having an online portfolio is a unique way to showcase your work and let others know about yourself. It's one of the best ways to express your personality, experience, and capabilities. The portfolio will usually include samples of your best work, including articles, reports, PowerPoint presentations, and links to blog entries. Portfolios are especially useful for work that can be presented visually, like photography, illustrations, and ad campaigns.
Why showcasing your work is useful?
You may be wondering why do I need to showcase my work online? While it may not be relevant for some jobs for any job that requires creative ability a place to show employers what you've done will be most beneficial. So, once you leave university and it's time to begin job searching you can have a platform to display perhaps a project or presentation you created. People are usually more impressed when they can see your achievements visually than just written on your CV.
Here are just a few reasons why you should showcase your work:
It's a great first impression for employers
If an employer sees your website link in your signature or on your resume, they'll likely click on it to see what you've built. Seeing you've taken the time to build a website featuring work samples, recommendations, previous presentations and more will be a killer first impression.
Increases Your Visibility And Online Presence
When an employer Googles your name, your professional portfolio will be one of the first search results that come up.
Its flexibiliy allows you to showcase your personality
You're able to show your personality by choosing a design, layout and the copy you write. With the click of a button, you can change content, videos, copy and pictures on your online portfolio. You can also constantly create new content to show your continuous learning process.
Where can I showcase my work?
Pebblepad
PebblePad is the university's electronic portfolio (ePortfolio) tool. It allows you to create an online, digital collection of your work including text, files, multimedia and links. This allows you to showcase your skills and knowledge to potential employers. The University of Hull provides all students with access to PebblePad. When you graduate, you can take your portfolio with you with the free alumni account. Any portfolio you create is private to you, but you have the option to share it with others.
LinkedIn
LinkedIn is a social networking website focused on professional and business-oriented networking. It allows users to maintain an online profile similar to a résumé or CV. You can list your skills and gain endorsements and recommendations from peers. This makes LinkedIn a useful website for showcasing your work, qualifications and experience. It also allows you to share details of projects you have taken part in, publications and other forms of portfolio. Recruiters often use LinkedIn as a platform for sharing job advertisements, managing part of the recruitment process and for approaching individuals about a specific job role.
Slideshare
SlideShare is a slide hosting service that lets users upload PowerPoint, PDF, Keynote and OpenDocument presentations. Uploaded presentations can be kept private or shared publicly to allow users to view, rate, comment and share the uploaded presentation. Slideshare is a great way to showcase your presentations to future employers and it is a particularly useful platform for sharing conference presentations.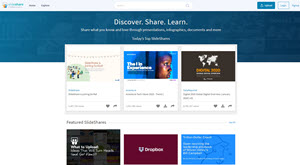 Researchgate.net
ResearchGate is a social networking site that enables researchers to share papers, ask and answer questions, and find collaborators. As well as the regular profile and messaging tools, it offers researchers the ability to follow research interests, share their data, comment and view access stats. The website features a proprietary metric to measure scientific reputation. It is called the RG Score and it works by analysing how "your research is received by your peers"
SoundCloud
SoundCloud is an online audio distribution platform that enables its users to upload, record, promote, and share their originally-created sounds. This makes SoundCloud a great platform for sharing any audio-based creative work, particularly useful for drama and music students to share their work. It accepts most common audio file forms and also lets users record directly via the website. Anything you upload can be made available for streaming, sharing, embedding and download, giving creators multiple ways to share their content.
Github
GitHub is the largest open source community in the world. If you're technically minded, it lets you contribute to software and technology projects. GitHub will track your contributions making it a great way to not only build a profile in the open-source community but to also demonstrate technical capabilities. The site has several communication tools to let developers collaborate, making it a perfect place to host your own projects too.
These are just a few examples but there are many more discussed in the skills guide linked below.
Relevant Skills guide: The Digital Student: Showcase your work