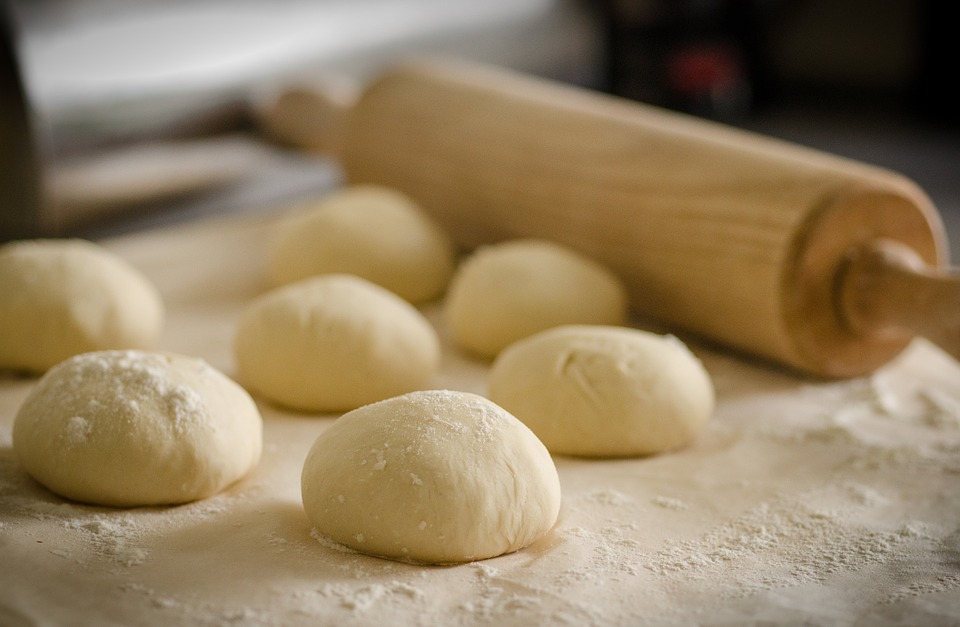 Looking to be inspired for our January Hull University Archives blog, we started browsing online content for January anniversaries.
It turns out there's a huge number of food and drink related celebrations; there's Chocolate Brownie Day on the 8th, Hot Tea Day on the 12th, Hot and Spicy Food Day on the 16th, Gourmet Coffee Day on the 18th, Cheese Lover's Day on the 20th, Chocolate Cake Day on the 27th and Croissant Day on the 30th!
This got us thinking about a small collection of household recipe books contained within one of Hull University Archives' collections….
The Hotham Family
The Hotham Family of Scorborough and South Dalton represents part of the Yorkshire landed gentry. Pedigrees from the collection suggest the family's roots lie in the 12th century, possibly beginning with one William de Hotham who lived c.1100-1166. Originally associated with Scorborough, the family relocated to South Dalton after a fire destroyed the old family home in 1705.
As with many such families, their lifestyle and the size of their household necessitated the appointment of various housekeeping staff, including a cook who would have catered for the family's daily meals and evening entertainments.
Lady Frances' Recipe Books
Amongst the records left by the family, there are several recipe and medicinal books belonging to Lady Frances Hotham.
Lady Frances married into the Hotham family in 1816, bringing her own mother's cookery and nursing books with her, and beginning her own recipe books to help her manage her new household. These records provide us with a history of cooking stretching back to the mid-17th century.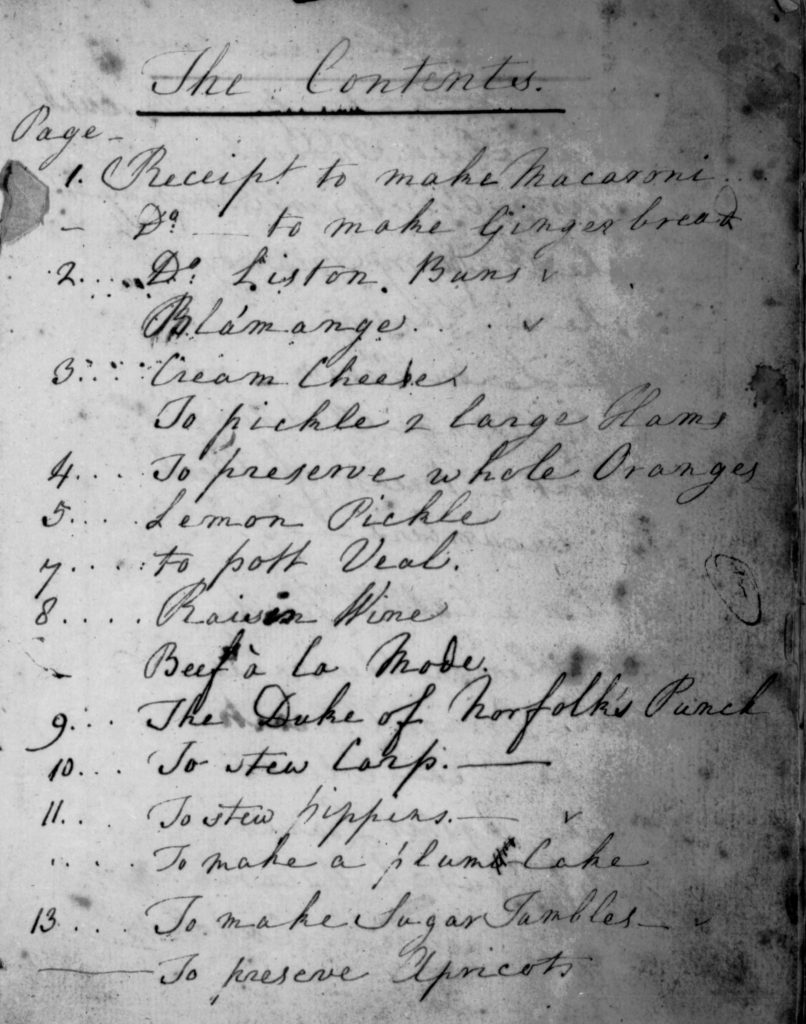 The books contain recipes for preserves, biscuits, sweet and savoury pies, stews, cakes, and drinks. They also contain recipes for medicines purporting to cure gout, fever, coughs, and even hair-loss!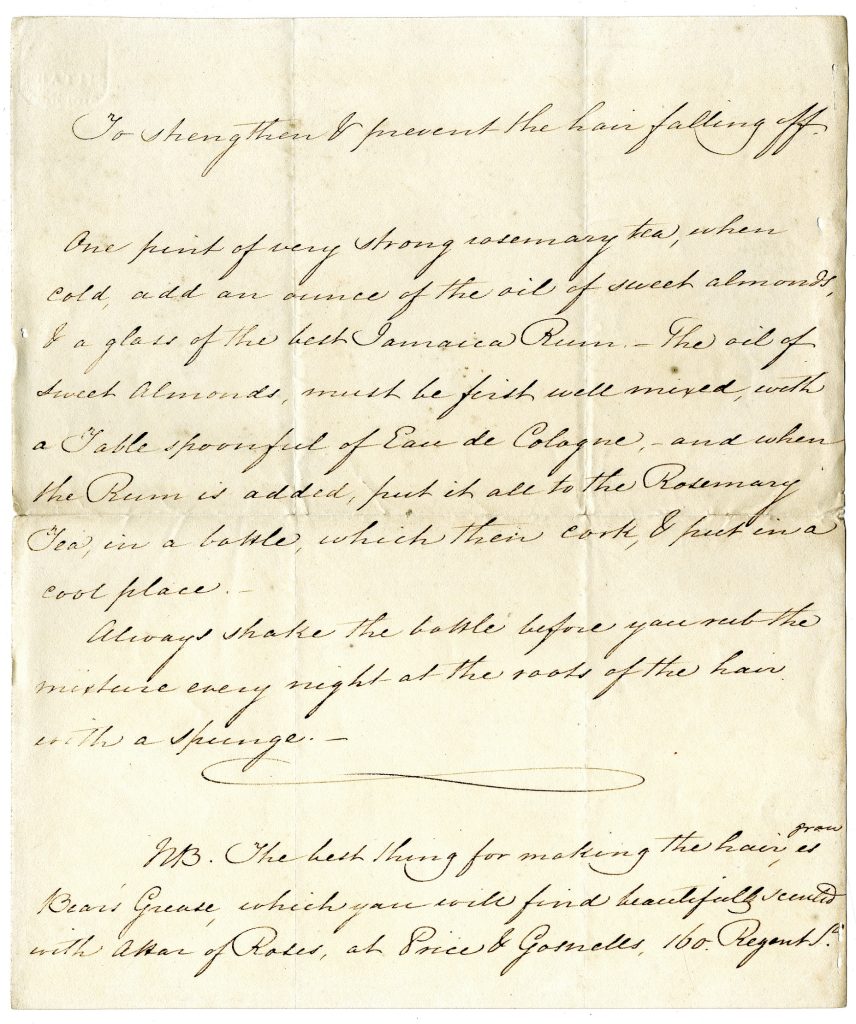 With such fascinating resources you could carry out some really interesting research projects; anything from trends in cooking, to a history of traditional home remedies.
History Bakers
Back in 2015-2016 a few of us at Hull History Centre used Lady Frances Hotham's recipe books to create 'History Bakers'.
The basic premise was: choose a recipe (so many options!), decipher it (the writing could be quite tricky), work out the measurements (Imperial to Metric, and some we'd never heard of!), source the ingredients (including some uncommon items), try to discern a method (scant details provided in many instances), make the recipe, and report back on the results. We shared the bakes with our colleagues and reflected on our experiences using social media.
It was such a popular campaign that we thought we'd share some of our attempts in this blog (please forgive the repurposing of content!)…
Curry Powder, c.1860 [U DDHO/19/8]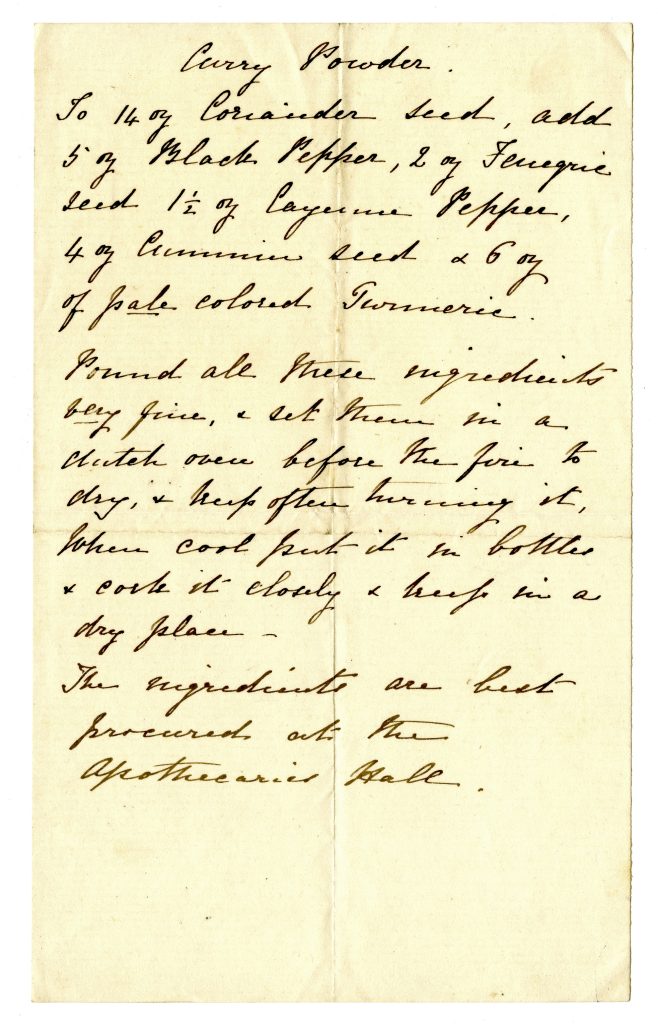 Written by Pete Dixie, Archives Assistant
The recipe for the curry powder is quite simple but shows some of the spices that were available to well-to-do households in England as far back as the Georgian period.
And to my method: The spices were ground together in a mortar and pestle, then dried in a warm oven for about 20 minutes. Easy. Too easy. So, having made the curry powder, I decided to use it to flavour some vegetable samosas.
There are plenty of recipes available on the internet for samosas. I picked one that took my fancy and replaced the recipe spices for my History Bakers curry powder. First, I boiled three small potatoes and a cup of frozen peas to make the vegetable filling. Next, I fried the onion in a tablespoon of oil adding the whole spices, the ground spices and the grated ginger chilli and garlic. I then added the potatoes, which I had broken up with a fork, the peas and herbs and continued to fry the filling for about ten minutes. Finally, I made the pastry with chapatti flour, which was better in taste and appearance than ones I had made previously with plain flour.
After resting in the fridge for half an hour (the pastry not me), I rolled it out and cut it into approximately six-inch circles. I then cut the circles in half and made them in to cone shapes, which I filled with the samosa mixture before deep frying them in oil for about five minutes until brown.
They came out really well, but the spice mix was very mild. I had no complaints from my taste testers, though several noted the 'pleasant but mild' spice.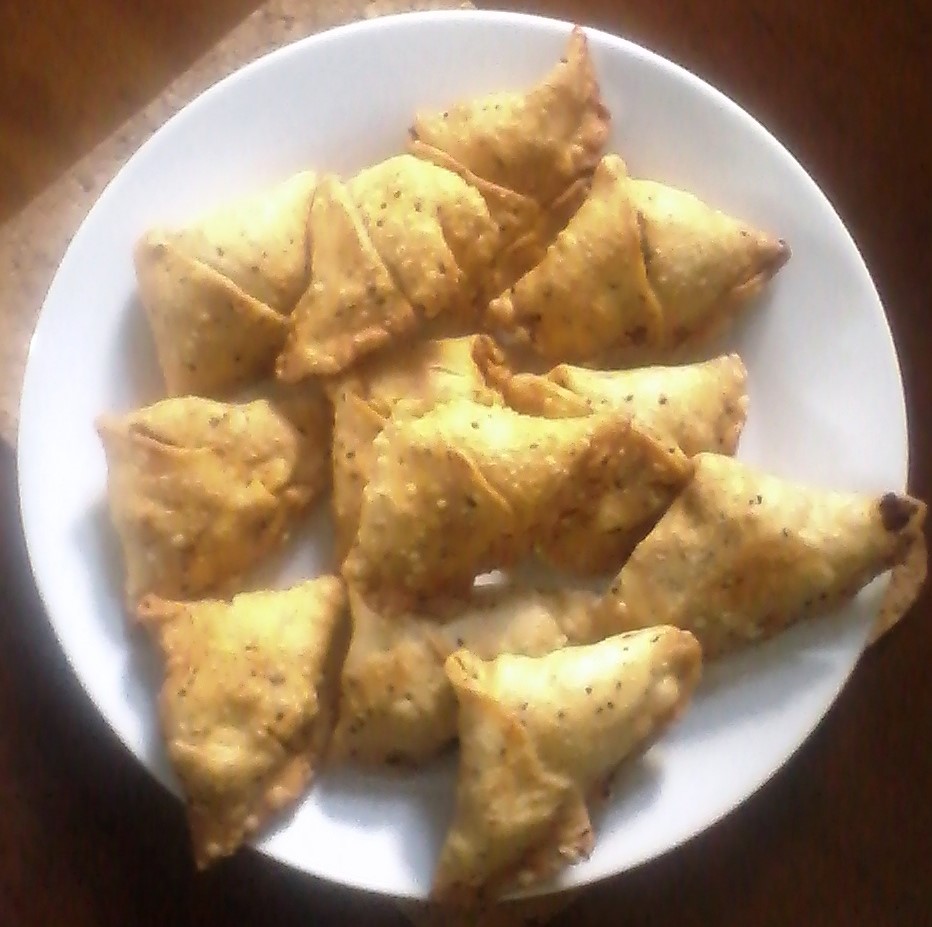 Prince Albert's Pudding, c.1860 [U DDHO/19/8]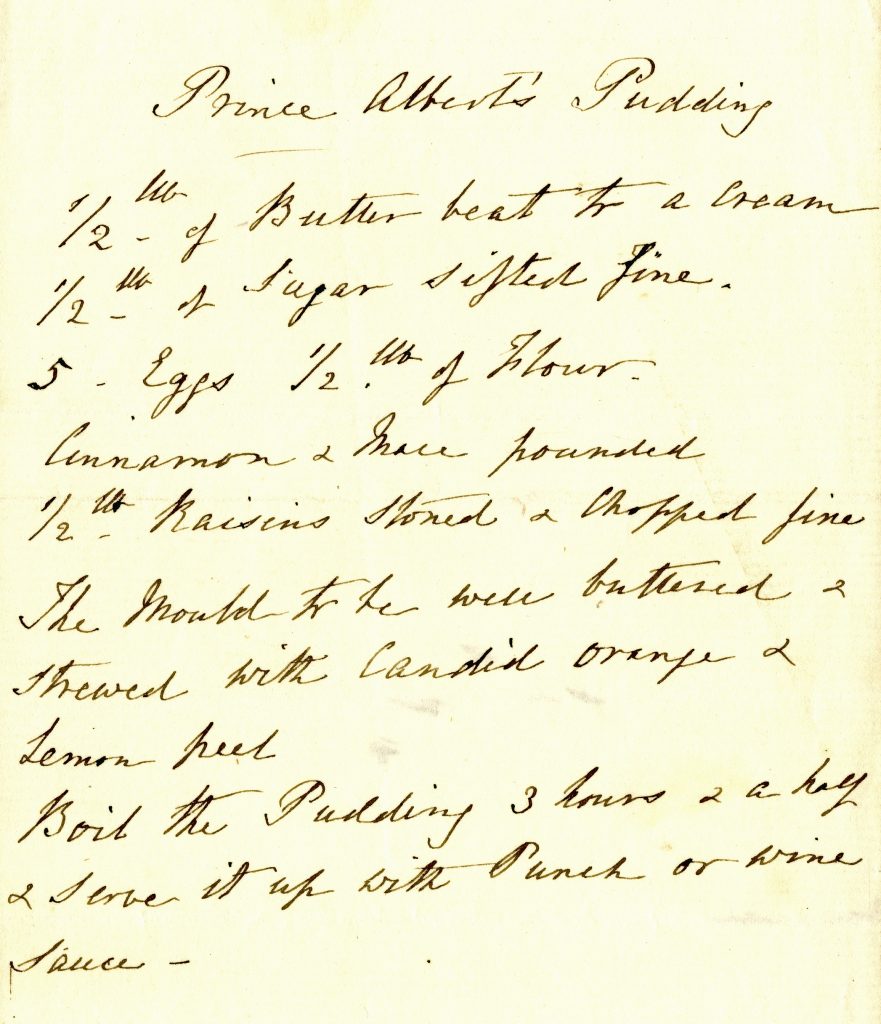 Written by Claire Weatherall, archivist
Although the book from which this recipe comes is dated 1860, some of the recipes, like this one, have earlier origins. The original recipe is thought to be by Eliza Acton. It first appeared in 'Modern Cookery for Private Families', which was compiled in 1845. This recipe shouldn't be confused with another Prince Albert inspired recipe for Plum Pudding. The Prince Albert Plum Pudding also appeared in Eliza Acton's recipe book under the heading 'Christmas Pudding'.
As you can see from the photograph of the recipe, there isn't much by way of method. So, I improvised by using the 'measure it out and chuck it all in a mixing bowl' approach. There was no measurement for the cinnamon and mace so I 'guestimated' half a teaspoon of cinnamon and a teaspoon of mace. Not being able to find mace whilst buying the ingredients I had to substitute it for ground mixed spice, which I already had in my cupboard.
Once the ingredients were mixed, I buttered the pudding basins. I divided the mixture in two, as I only had small basins, and layered the bottom with candied peel. Next, I added the mixture and then came the actual cooking process.
And it is here that it might have gone a bit wrong. After three and a half hours of steaming the puddings on an electric hob they still hadn't cooked through. I decided to finish them in the microwave (not historically accurate I know but it was late and I wanted to sleep). Unfortunately, they came out overcooked and quite dry.
Colleagues were very polite and tasted my attempts. All who were brave enough to taste the pudding noted that the flavours were great. One colleague made the helpful suggestion that custard might help with the dryness issue!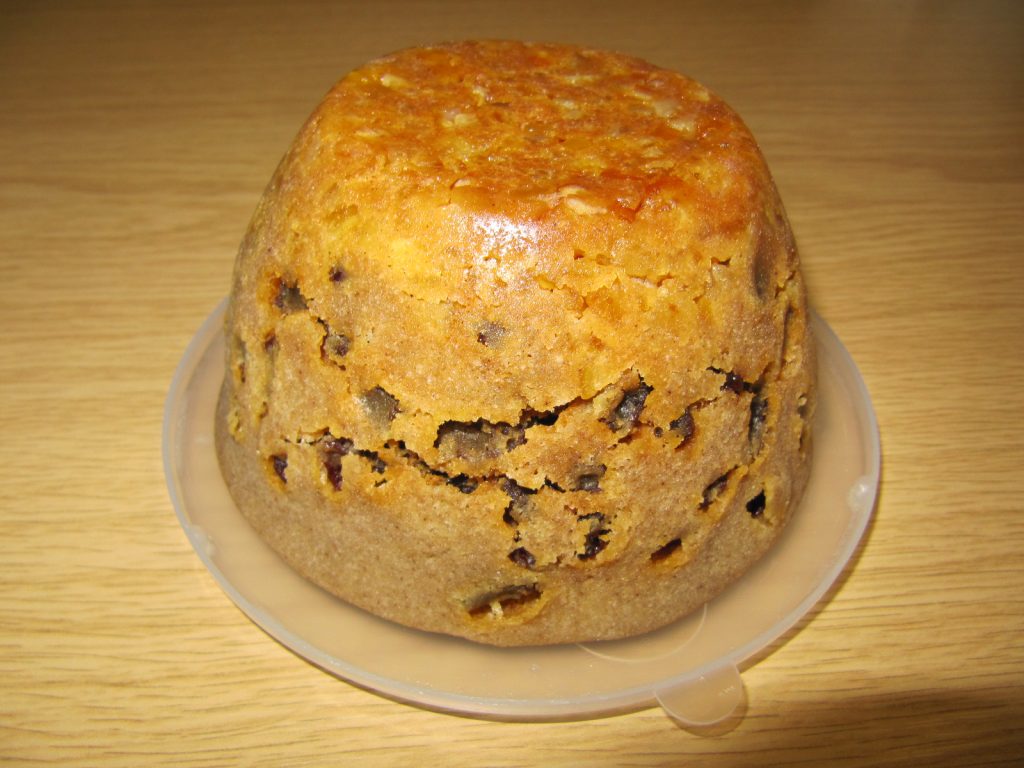 Baked Apple Pudding, c.1820 [U DDHO/19/5]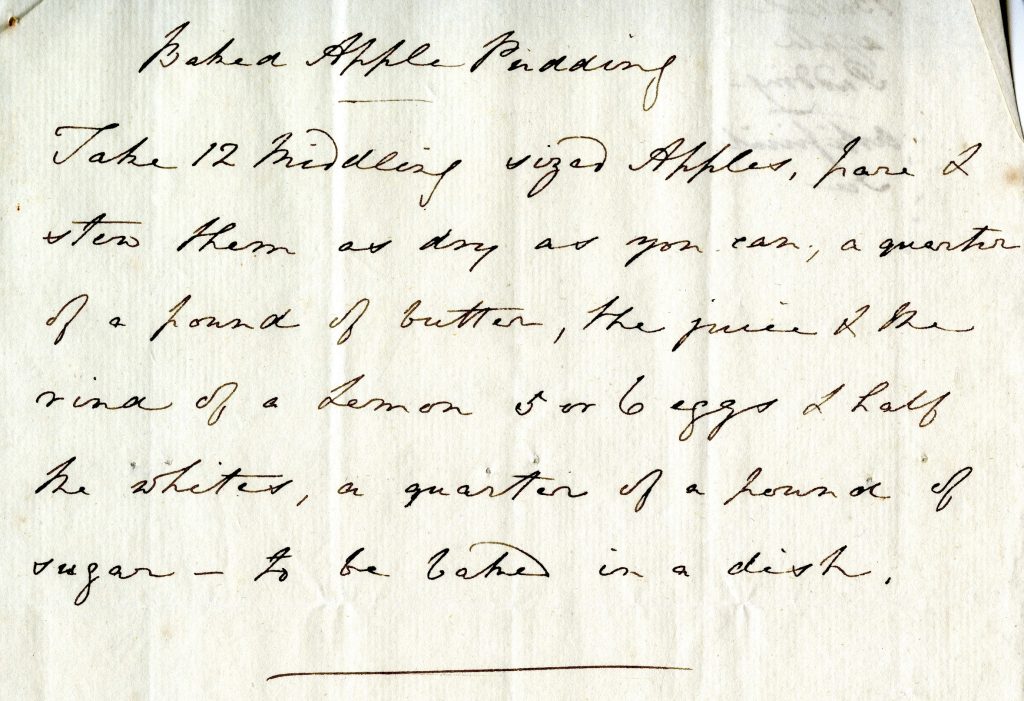 Written by Verity Minniti, archives assistant
I chose a recipe for Baked Apple Pudding, which dates from around 1820. As you can see from the picture of the original recipe, there is limited advice for the modern cook on the exact method of preparation.
Consequently, I did some further research and found other contemporary recipes for Baked Apple Pudding online. These really helped when it came to the cooking! As no type of apple was specified, I decided on Granny Smiths. I thought the sharp taste of the Granny Smiths would be a good balance to the sweetness of the pudding. Also, I discovered that cooking apples hadn't been developed by 1820. The number of eggs in the original recipe also alarmed me a little. When looking at similar recipes it seemed that 6 eggs was a standard amount. So I decided to use just the 6 eggs and not add a further 3 whites.
Having seen other recipes suggesting serving the pudding in a 'pastry dish', I chose to bake some of the mixture in a pastry case and some in a normal glass dish. Having also needed to estimate the oven temperature, I was pleasantly surprised when both attempts turned out rather well!
All in all, I had a great time cooking the pudding, even if there were a lot of fingers crossed hoping it would turn out ok! Oh, and all at Hull History Centre seemed to enjoy eating the puddings.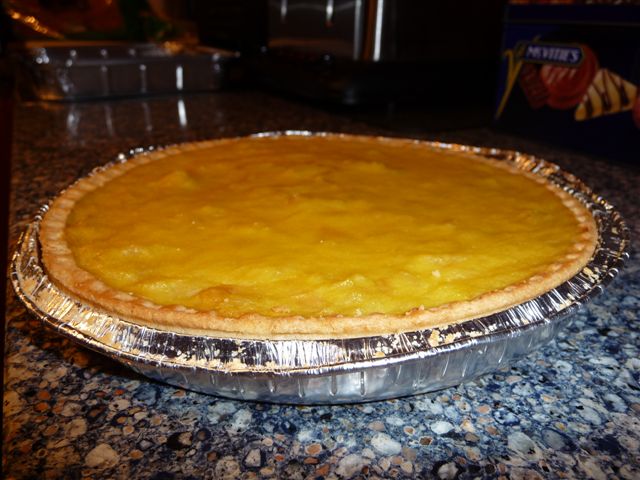 Gingerbread, c.1777 [U DDHO/19/2]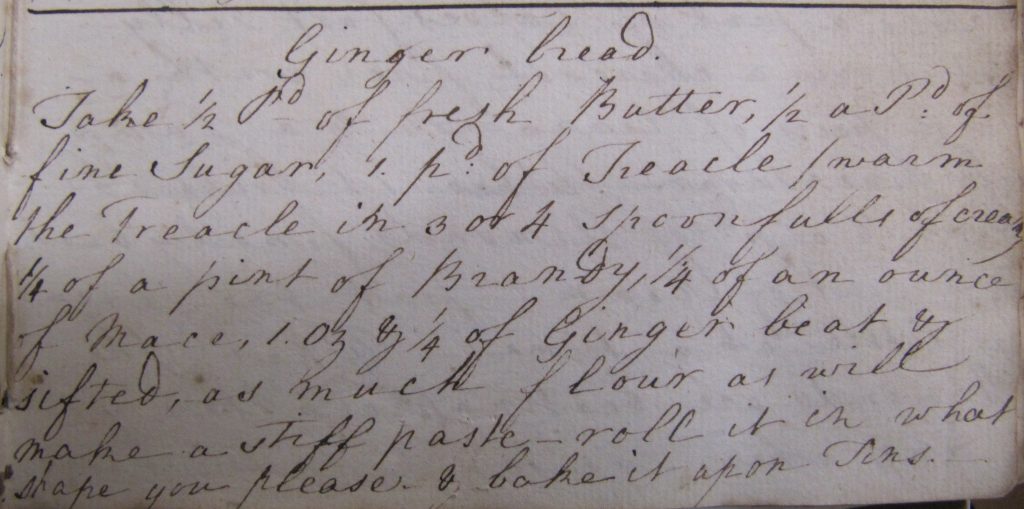 Written by Verity Minniti, archives assistant (she really loved this campaign!)
To celebrate the Hull Fair and Bonfire Night season, I thought it would be only fitting to make some gingerbread.
I selected a recipe in a book dating from around 1777. This particular example caught my eye, as it was very different to the gingerbread recipes I had tried before.
As you can see from the picture of the recipe, this gingerbread contains black treacle, cream and brandy! The recipe was fairly detailed, considering it's age, and provided me with clear weights for each ingredient. I even had a something of a method to work with!
However, I still had to estimate the oven temperature, cooking time and amount of flour. Luckily, my estimations were correct and the gingerbread turned out really well. However, colleagues were disappointed that the cooking process had evaporated the alcohol from the brandy… probably for the best!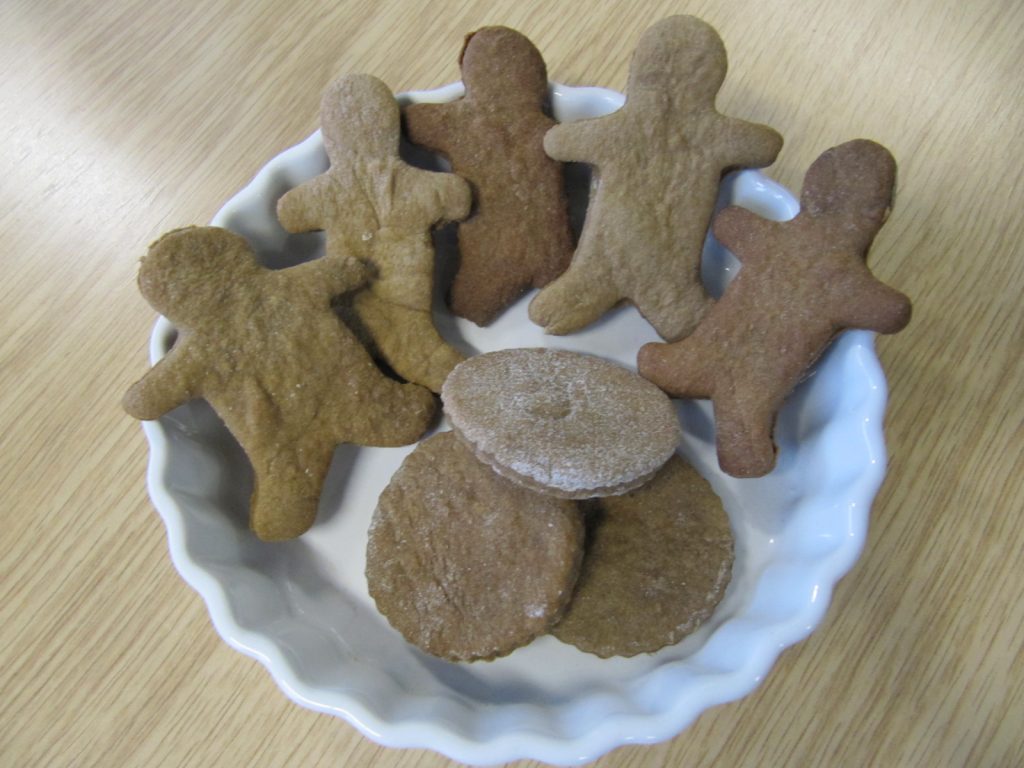 Over to you…
Think these resources could help you with your studies, research or learning development? Email us archives@hull.ac.uk for a chat or to make an appointment to use them at Hull History Centre.